A fun bike ride with 3cd's along Barber Road
It's funny how the little cache, "Barber, No Haircut" sat, unfound, for more than two years, even though it is fewer than three and a half miles, as the crow flies, from my house, and now I found myself riding my bicycle on the trail again. This time I was with 3cd's while he looked for my different containers.
This was today's view from "WOW".
3cd's was trying to get through the burned vegetation without getting black . . . He didn't succeed.
Here he is tucked into the little cavelet signing the log for my fourth cache along the trail.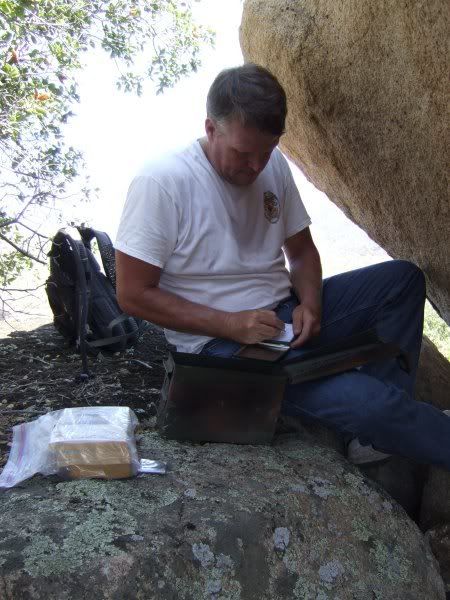 It was a clearer day today. This is the view to the north from the big expanse of slickrock.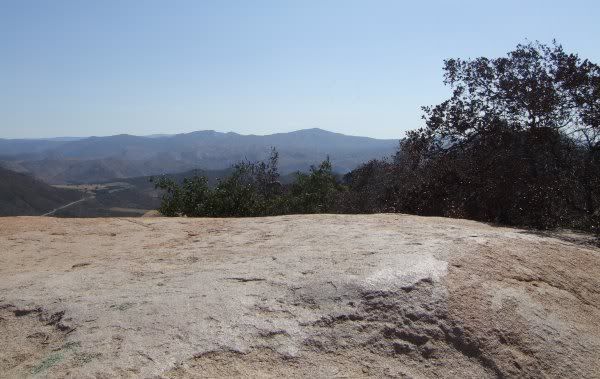 This one smooth rock out in the middle of the scorched landscape is an oddity.
At the Terracache location, I scrambled through the burned vegetation to climb up one of the boulders that offered this view to the east. I said to 3cd's, who was about sixty feet away at the cache, "If I could throw like Kalill Green, I would toss my camera to you so you could take my picture."
Alas, I didn't want to break the camera, so I didn't get a picture of myself on that perch.
Everytime I have been on the trail so far, it has been a different time of day. This is what the split rock looks like in the mid-morning.
3cd's wasn't feeling well, so we passed by the trail that goes up to a new Terracache, deciding to go for it another day after doing a bit of "Google Earth" exploration to make sure of the route.
I had a great time. My bike worked adequately, except for the squealing brakes. The noise from them startled some Border Patrolmen who were not expecting to see some "legal" residents on that remote trail.
After our adventure was over, it was great to be only five minutes from my home, a cool, refreshing shower, and lunch . . .