After two years, a DNF is finally cleared up
Even though I did not feel well, I knew if I got out, it would be good for me. So, when fisnjack suggested going out to Lake Morena, early in the morning before it got too hot, I did a filter in GSAK for that area, deleted the caches in my GPSr from Sunday's adventure, and reloaded the caches around Lake Morena and down past Corte Madera.
I left my house for the 15-mile drive to the Descanso Park 'n Ride about 20 minutes to seven and got there almost on time . . . From there, we drove out I-8 to the Buckman Springs exit and then drove south to the Lake Morena entrance. The first cache we headed towards was "Travelin' Turtles," which Princess Toadstool and I looked for unsuccessfully two years ago. Now it had updated coordinates, and that made all the difference in that area with huge boulders and lots of chaparral scrub brush.
The is a great view of Lake Morena from that portion of the PCT. I never saw the lake when it was completely full, but fisnjack did and even paddled his canoe near the spillway to see the action.
After hiking back down to the vehicle, we got our mountain bikes out and road through the park and over to a cache I found two years ago with P.T., but fisnjack needed to find. Since I had on my trusty Chaco sandals, I waited down by the lake while he bushwhacked through the weeds.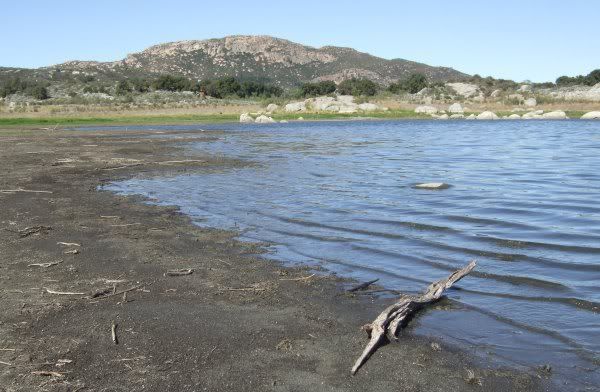 Near the "Chim Chiminey" cache, a couple of turkey vultures flew around and over us.
Further down the trail we saw this great outcropping of rocks.
We rode our bikes more than eight miles by the time we returned to the vehicle.
When we got there, fisnjack's little dog, Teddie, wasn't with us, even though I thought I had seen her out of the corner of my eye as we turned that last corner. We had a bit of a scare for a while, but after returning for a second time to look for her, we found her, sitting in the shade, looking very scared, as if she thought she had been left behind.
From there, we made the long, long drive up towards Corte Madera and the area our group traveled to on Memorial Day. We found a cache hidden near the remains of this old tree.
It sort of looks like the picture of "The Pogues" placed on the cache page.
This is the valley we drove through to get to that cache, and the remaining ones along the trail towards the "backdoor" of Horsethief Canyon.
It is a great 4WD adventure, but it is a long way from anywhere . . . should anything go wrong with your vehicle . . .
We only had to hike .4 to get to the last cache, and that was a good thing, because by that time of the afternoon, it was well over 90°. Our logs will probably be the last ones on those caches for a long time . . . until the temperatures start to moderate in November.
What does that rock look like to you? That is what the cache owner wanted to know.
This nearby rock formation looked like a spyhopping gray whale . . . from this angle.
And, in the distance, one of the rocks in this formation sure looked like a lion statue, like the kind you would see in front of an old library or college building.
Even though it has been exceedingly dry, there were still a few of these flowers blooming.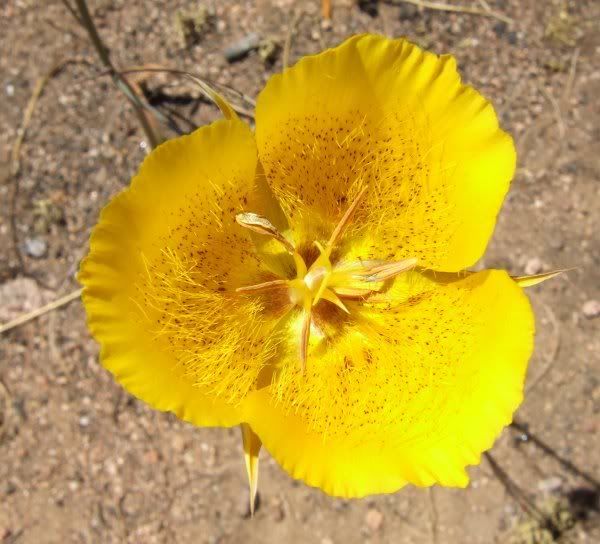 Even though I felt terrible during the day, and I wasn't very good company for fisnjack, it sure was great to get out and get some exercise and see all that fantastic country again. I am very grateful to fisnjack for being such a good friend to me.