A windy, but wonderful day on Mt. Laguna
Auld Pro emailed me a few days ago saying he wanted to see pine trees on our next hike. Well, today turned out to be a perfect day to head for higher elevations. A high-pressure system moved into the area bringing almost record high temperatures to the lower elevations.
On our way, we stopped for one cache that had been found easily by two finders two days ago. Either we are blind or the ammo can has already disappeared . . .
Then we looked for another cache near a large pullout along the highway. That was an easy find, unlike the next cache we looked for. We had a chance for a FTF, if only we could locate it in that rockpile where it was hidden. I was about to call it a DNF when I moved a little piece of wood, then a small rock, revealing the hidden container. Wheeeuuu! That was close.
On a recent trip up here, I DNF'd a cache placed by FlagMan at the location where Duncan! used to have a cache. The wind was blowing so hard, I kept getting dust in my eyes. Auld Pro knew where it had been before, and I didn't read the entire hint, so we called it a DNF and headed for a more sheltered area to hike.
Before leaving, I took this picture, but had a hard time holding the camera steady against the wind gusts.
We parked at the back end of the Laguna Campground and started out headed for "
The Remote Rossiter Cache
," one that has an interesting history, since the original coordinates were off by more than 6,000 feet . . .
From there, we hiked down the easy trail to a cache placed by a Boy Scout Troop. It had been an easy find for the previous seekers, but we could not find the 50 cal. ammo can . . .
After that, we located the Archived "Bilbo's Book Exchange" container and decided to remove it, since it is only 100 feet away from the other cache and has been Archived for more than a year now. We stashed it nearby since we were going to be returning this way on our return.
From that location, we hiked to a Terracache placed by Akop&Fam. It was in a fantastic location with great views in all directions. Auld Pro and I sat there for a while, taking in the location and enjoying the brisk breeze.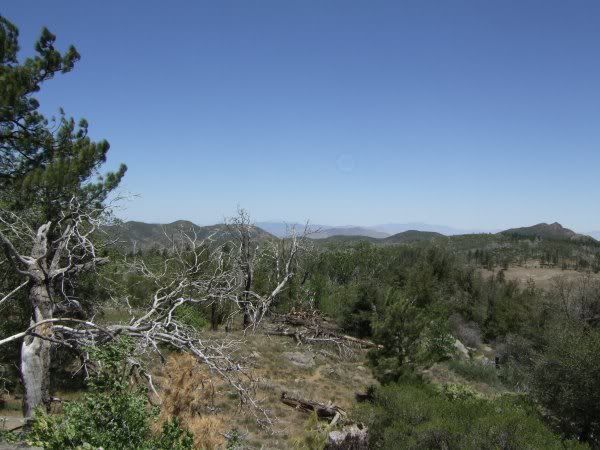 As we hiked back along the meadow, I stopped to admire this amazing tree.
Here is a closeup of the woodpecker's larder.
With this pastoral view of the lake, you can't tell that the wind was blowing through the tops of the trees with gusts of thirty to forty miles an hour.
There were lots of different flowers blooming, but because of the wind, most of them weren't remaining still enough for portraits . . .
This prostrate thistle was very interesting. I had never seen anything like it before.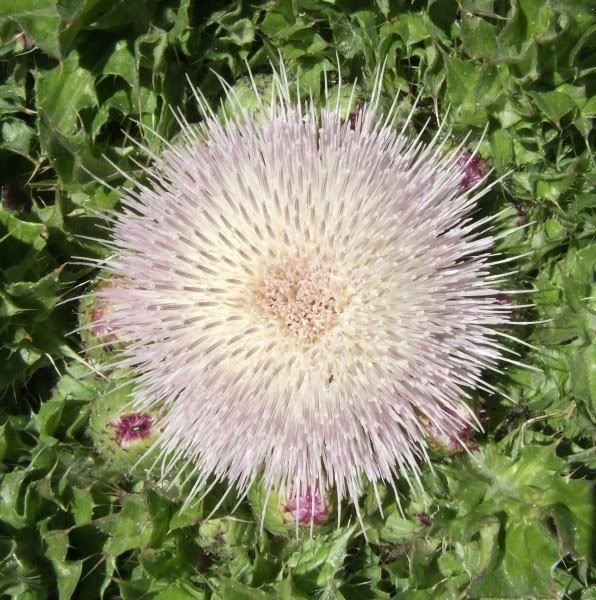 After we stopped and picked up the container we had left behind, I was beginning to feel the distance we had traveled because of the additional weight, so I left the container again, since we were going to retrace our steps after finding the cache the bradybunchboys' placed for me as a birthday present last fall.
At that location, I pulled up the Custom POI of that "Active Found" cache. My GPSr took me right to the location. I finally asked Auld Pro, who was searching about 50 feet away, "Is your GPSr leading you astray?" I hate to think how long he would have been searching that area with many fallen logs if I had not been there . . .
He retrieved a TB I had put into the container last September. I'm sure that TB owner is happy about that.
It was a fantastic day, and was the perfect place to hike, something we were reminded of as we watched the temperature go up and up and up as we got closer to where I left my car in the morning. It was 17° hotter than it had been in the mountains.
Once again I am grateful to my caching companion for doing all the driving and for making the long hike so much fun.