Barber Road lures me again
I woke up early and packed my backpack with my sleeping bag, tent, Thermarest mattress, some cans of food, and a water bottle. I hefted it onto my back and started out from my house, walking up the long driveway and then down Skyline Truck Trail, past the 2 Mile marker and on to the point where the road starts to go downhill. The distance I covered was about two miles. It was a test to see how it felt. I've been invited to go back-packing this weekend and need to make some training walks carrying the pack before I can commit to that adventure.
After I got home, I discovered I just missed joining 3cd's on a FTF hike to a cache that had been sitting unfound for a few weeks. There was another FTF available, or so I thought. The Terracache on the top of Elena Mountain. So, I drove to the trailhead and got on my bike and pedaled along this now familiar road. Before I returned, I covered more than eight miles.
On my way to the "trail" up the peak, I stopped to get a cache placed by Harmon several days ago. I knew he had some "sleepers" out here, and wondered when they would pop up. Turned out he couldn't submit them for review because he didn't have the coordinates . . . Doh! It wasn't until the Splashes retrieved the coordinates for him that he could submit them.
This is the view from "
Cowboys and Indians Ambush Spot
."
The route I took up to the peak starts just past my cache, "The way it was before the fire." I stopped a few times to catch my breath and take pictures on this beautiful day.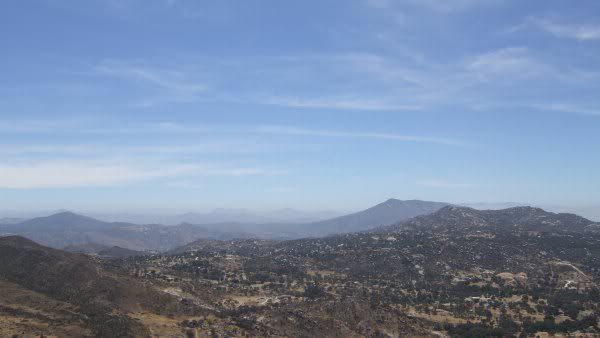 When I got to the top of the peak and found the Terracache, I saw that Gecko Dad had beaten me to the FTF. He left one of his beautiful silver geckos and I was tempted to trade for it, but left it for the next finder.
I brought a small tin container with me and found a place to hide it on the west side of the peak. I think it will be a bit difficult for people to find, and getting to the cache is a challenge because of the terrain and all the burnt vegetation. I rated it a 3 for Difficulty and a 4 for Terrain.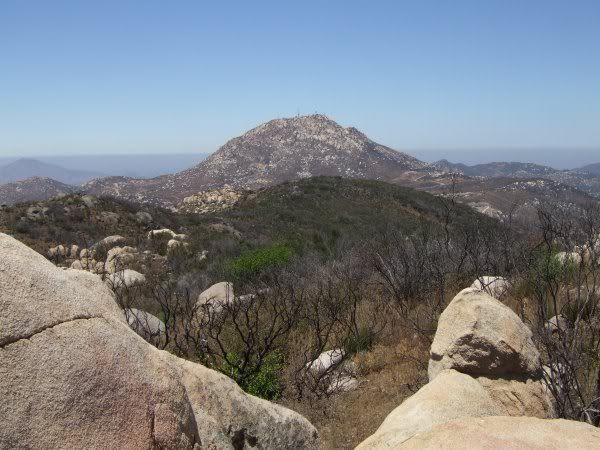 I took a different route back down the peak, getting blocked by huge boulders and burnt vegetation a couple of times. I saw this interesting rock formation following that route . . .
By the time I returned to the bike, my pants were black with charcoal.
I also had lots of stickers in my socks. I was wondering why I thought it was a good idea to take the gaiters out of my pack this morning . . . They had been in there for the past several weeks, unused, but not in the way. I sure needed them for this little adventure.
Once back on the bike, I continued to Harmon's cache DOWN the hill from "Oh Darn, Civilization." With a death grip on the brake handles, I thought, "Holy crap, Harmon . . . What were you thinking?" Sheesh. That hill was sure steep.
It didn't take long to get to his cache, and I found it right away. Hmmmm . . . that's a familiar container. It was one I put in the ammo can up the hill. For the log, he used a few pieces of notebook paper from my logbook . . .
The cache is hidden near this rock outcrop.
I pushed the bike most of the .24 mile distance back up the hill to my cache where I could finally get on and ride again. It was great fun riding the bike while listening to Allison Krause on my iPod.
Near the place where cachers walk to "Slickrock, Boulders, and Lawson Peak", there is a view of the rocky outcrop on the top of Elena Mountain where my cache is hidden. Thick stands of scorched vegetation block any possible route to the top from this side.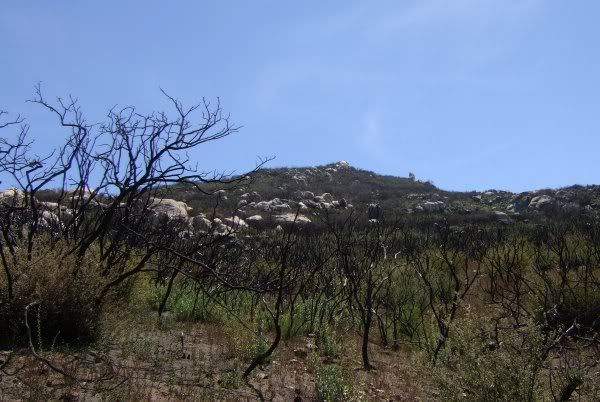 After taking a few more pictures, I got back on the bike. There was only one more uphill section between me and the one-mile downhill stretch before getting back to my car.
Today's adventure lasted about three hours. It was a wonderful and challenging way to spend the middle of a beautiful August day.